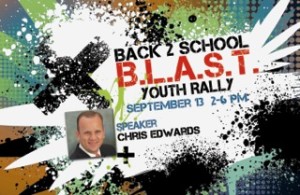 You are invited to the Back 2 School Blast on September 13th!   This Youth Rally has been organized by a few churches here in the Fort Mill area and we will be having a full schedule of preaching, games, skits, singing, and pizza.
Our special speaker will be Pastor Chris Edwards from Grace Baptist Church of South Charlotte, NC and if you have heard him speak to young people, you know that he will challenge and encourage them.
The cost is $5 per Teen, and no charge for sponsors.  The dress will be casual as we will be having athletic games in the gym.
Please let me know if you will be able to come and an approximate number of attendees that you may have.  If you have any questions, please don't hesitate to contact me by phone or email.
Hope to hear from you soon and may God bless you and your ministry!