Sunday School
Nursery
Toddlers Sunday School for 2-3 years old
Primary 1 Sunday School for 4-5 years old
Primary 2 Sunday School for grades 1 – 3
Junior Sunday School for grades 4 – 6
Youth Pastor Sam Stewart teaches a class for the teens of the church. On occasion, his wife, Amber, will teach the girls in the group.
Adult Classes
Our Sunday School hour is not just for the little ones! We have a variety of Bible study classes that provide both an opportunity to learn more about the word of God, and a smaller group where you will find companionship and fellowship with others who have similar interests and concerns. Take a look at these descriptions, and then join us in a class this week. All adults meet in the auditorium at 10:00 and are then dismissed to their individual classes.
Single Adults
Life is full of changes! Just about the time you feel like you've got it all together, life throws you another curve ball. This class is designed to help young singles navigate their life changing transitions with clarity, through biblical direction and principles. Each week many young adults are helped, trained, and encouraged through Bible teaching, personal mentoring, and a friendly environment. So why go through all of life's changes on your own? Come join us this Sunday and find help and encouragement from others on the same step of the journey as you.
Couples Bible Study
The family is the cornerstone of society. God's word has clear instruction about relationships, marriage, children and parenting. While our couples class is not strictly a "home and family" class, we do find practical applications from our study of Scripture that help us as we teach our children and grow in our relationship with God and one another. This class is geared for those who are married, and still (or soon to be) raising children.
Adult Bible Study
Composed mostly of couples and singles in their middle years, this class focuses primarily on book by book studies through the entire Bile, grounding members in the Scriptures and encouraging them to grow in their personal relationship with God, and their service for him. This is an interactive class, allowing for discussion between the class members.
Berean Ladies Bible Study 
Are you in the mid-life stage? Need a spiritual renewal? Looking for a connection to someone who understands? Then, this is the class for you! Be challenged with Biblical lessons, find sweet friendships with saved ladies, get inspired to live for God, and be included in a loving church family
Discipleship Class
Are you a new believer, or would you like to go "back to the basics" in your Christian life? The discipleship class is a study of foundational Bible truths: Basic Bible Doctrine, Guidelines for Christian Growth, and Scriptural principles to help you develop godly wisdom. Join us for a small group study, accompanied by regular times of fellowship outside of class.
Auditorium Class
Our largest adult Bible study takes place in the auditorium, under the direction of godly, experienced Bible teachers. Married or single, young or old: all are welcome to join us for these verse-by-verse journeys through the word of God.
For more information on any of these classes please contact the church or see an Usher.
Additional Ministries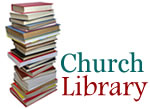 Good books and useful resources can help us grow in our Christian life, serve as an aid as we study the Bible and help us to become more like the Lord Jesus. Our church library has hundreds of books on various topics. Members can check out books, free of charge, for two weeks like a public library. We also have dozens of videos and tapes that can be checked out.
Financial difficulties can almost be overwhelming. More couples divorce over money problems than any other single cause. The Bible has a great deal to say about money and how to manage it wisely. In an effort to help our church family, as well as our community, Bible Baptist hosts Financial Peace University seminars on a periodic basis. Learn more about FPU here, and check back at our site often to see when the next class will begin.